There is growing concern over the "pay-back" of investment in foreign aid and some donors are coming under increasing scrutiny in terms of the performance of their aid project portfolios.
In excess of 55% of the world's population gain their living within the agricultural sector and in lower income countries this percentage can rise to in excess of 85%. The agricultural sectors face a complex challenge of supplying increasing amounts of food and fibre to accompany population growth. The technologies and techniques applied need to reduce the impact of production activities on environmental conditions and ecosystems so as to increase sustainability. The reality of climatic change is a significant risk factor. Agricultural projects are particularly complex with regard to their design because the interactions of multiple factors determine project success.
Project failures
Currently the international aid budget is some $215 billion from government and international agencies and private sector (OECD). Reports by the World Bank in 1992 and 2010 and others have revealed that of this $215 billion, around 35% is likely to be wasted as a result of project failures. This is equivalent to around $75 billion each year.
Millennium Development Goals












Sustainable Development Goals


















The reasons for project failures have been analyzed in some depth and besides diversion of funds from intended purposes as a result of corruption there are some fundamental technical reasons. Most funding agencies still apply project cycle management methods that have remain locked in an inappropriate set of procedures since the 1970s. These have given rise to the identification of single project plans and management summaries for action in such formats as Log Frames or Gantt Charts. An attempt to improve project designs was associated with the introduction of Theory of Change (ToC) approaches. However, ToC originated in areas of work that do not commonly apply rigorous quantitative techniques. Work is undertaken by group efforts but the fact remains that most projects are designed by people who have no training or experience in the appropriate analytical quantitative methods. As a result, donors are not provided with adequate information on the design process, the options reviewed, why specific technologies and techniques were selected, technical feasibility and resilience to likely changes that can occur during implementation. Because most projects presume a single plan, there is often inadequate short term funding and no decision support mechanisms to respond to changes in conditions during implementation. There is a general consensus that amongst the weakest elements in funded project designs is reliable information on risks and sustainability beyond the project funding stages.
The post-2007 economic crisis
Unfortunately, the financial crisis that appeared in 2007 was addressed by macroeconomic policies that have resulted in a very slow world recovery resulting in a severe constraint on the funding available for development finance. A roll-over effect has been that those countries who receive "budgetary support" have had to divert some aid funding into other uses. Segments within the agricultural sectors to be affected have been agricultural research and agricultural extension. However, agricultural research, innovation and extension activities are the core functions that remain essential motors for economic growth in the agricultural sector. Therefore the challenge is to organize these activities so as to enhance their capacity and rate of success to compensate for lower budgetary allocations. There is an urgent need for efforts to reduce the known levels of waste in agricultural projects.
In the post-2015 SDG era financial waste likely to increase
With the advent of the Sustainable Development Goal (SDG) era in 2015, project designers have found that the ToC, LFA and GC project design procedures to be of marginal utility. This is because SDG indicators are macroeconomic indicators and it is therefore necessary to design and dimension projects, programmes or policies to secure substantive impacts at the national level. In the last 2 years several macroeconomic models have been advanced as bases for planning SDG national strategies and plans. These can only provide useful analytical results and projections if the quality of quantitative data concerning the project level transformative processes is of sufficient reliability and has been dimensioned correctly. Without an adequate response to this challenge through the introduction of appropriate analytical techniques, waste and financial losses are likely to increase.
Reducing waste
An organization working to address this challenge include SEEL-Systems Engineering Economics Lab
1
who develop software components (
STscripts
) used to build cloud-based project cycle and portfolio management systems components. They have taken various steps to support decision analysis research applied specifically to economic development project design. Their aim is to reduce financial losses through the provision of a global cloud-based project cycle and portfolio system. This system, Navatec System, went live in January, 2018 based on enhanced procedures for information quality identification and specification in support of project design. The whole project cycle is monitored though a Real Time Audit providing on-demand analysis and reporting on any aspect of any project in a portfolio. The system has a global reach. This service is provided by Navatec.com, the services division of the George Boole Foundation
2
. In response to this challenge SEEL has developed a series of utilities or online Apps that provide rigorous analyses at the project level which dimension and project what is required to achieve macroeconomic level SDG indicator impacts. These utilities take into account the countervailing constraints that exist in low income countries and calculate trade-offs to identify optimized designs. The main constraints analyzed include:
the density and natural growth rates of population numbers
the physical accessibility of required products and services
the accessibility to relevant information on availability and utility of required products and services
the nominal incomes of those requiring products and services
the affordability of unit prices of relevant products and services
the funding available for investment in projects/actions
These utilities are being integrated into the January 2019 roll out of the Navatec system upgrade.
An announcement by SEEL on this new enhanced service can be found here:
Navatec upgrade
Economic growth
In order to optimize economic growth in terms sustainability and real incomes it is necessary to introduce more rigorous optimization procedures. SEEL utilities achieve this by following a due diligence design procedure (3DP) that takes all factor into account and provide each with due consideration supported by appropriate analytical methods supported by online tools (utilities). The procedure includes detailed gaps, needs and constraints analysis. The focus is on the identification of feasible and optimized options. Current project design methods often produce proposals that are either over- or under-ambitious. Over-ambitious projects are doomed to failure, causing a waste of funds and low development impact. Under-ambitious projects may well secure objectives but represent a less that achievable result leading to an ineffective use of funds and low development impact.
The SEEL utilities provide reliable validated data to identify feasible and optimized proposals and provide reliable data for macroeconomic models.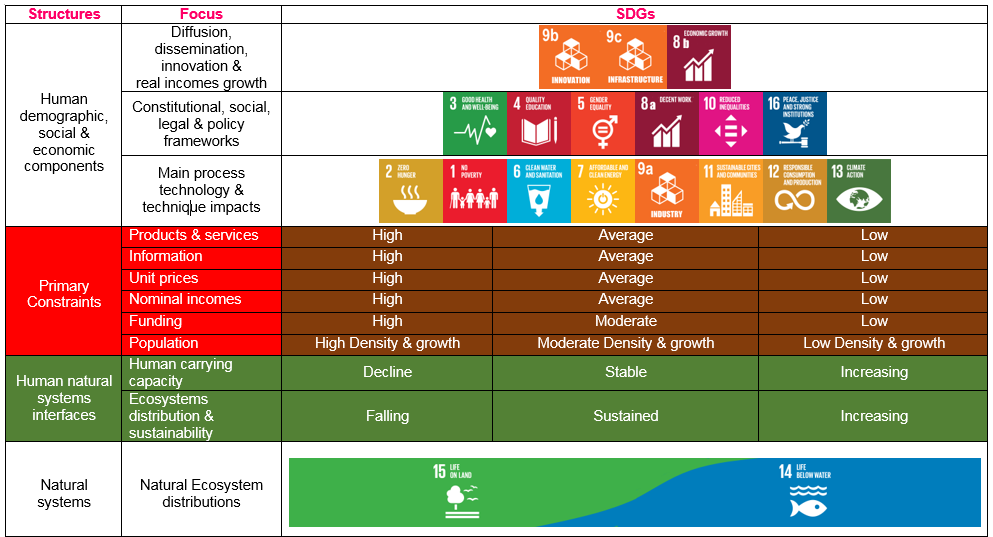 ---
Reference: World Bank Portfolio Review Internal Report 1992; World Bank Evaluation Dept, 2010; Open Quality Standards Initiative, Project failure stats, 2017, OQSI; SEEL, 2018.
---
1
SEEL-Systems Engineering Economics Lab was founded in 1983 to advance research in the development of applications of global networks. SEEL has been developing applications for advanced decision analysis techniques for economic development projects since 1986. SEEL staff and associates have over 50 years experience in project design, management and evaluation. SEEL's research has included comparisons of successful decision analysis techniques in business, agribusiness and industry and agricultural projects and research. This revealed that the most successful commercial agricultural, commodity and agribusiness companies make widespread use of decision analysis and advanced operational research techniques such as simulation and decision support to optimize operations resource allocation and logistics management. The economies/savings exceed $750 billion annually. On the other hand the largest lending organizations dealing with international development projects in agriculture and agricultural research projects do not insist on the application of these process design and optimization techniques. Even more extraordinary is the fact that large donors and lenders did not require that funded projects should have computer-based management information systems but continue to use word processor and spread sheets which have unacceptable data quality resulting from human input errors.

2 The George Boole Foundation Limited (GBF) was founded in 2010 by SEEL as a not for profit organization with all profits being dedicated to ongoing research and development. In 2010 GBF set up the Decision Analysis Initiative (2010-2015) to explore how the benefits of advanced programs could be introduced to improve agricultural project design and resilience. In 2015 the Open Quality Standards Initiative was formed to develop guidelines on due diligence design procedures for agricultural projects to support the use of Decision Analysis. Decision analysis adds in the following essential components to project design: 1. effective stakeholder involvement throughout the project cycle, 2. effective gaps and needs assessments, 3. complete constraints analysis, 4. identification of many feasible project options, 5. application of established project design optimization methods, 6. assessment of sensitivity of project performance to specific factors, 7. improvement in quality control of information used, 8. improvement in quality of project documentation.